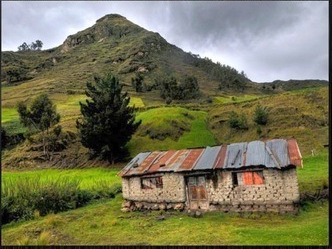 When you live on a 10-hectare farm in a remote area of the Andes Mountains of Ecuador, you eat what you can source locally. For Raul and me, that meant as far as we could walk or ride horseback. Luckily for us, our yuletide eggnog ingredients were all within walking distance of our two-room mountainside farmhouse.
Here's a list of ingredients I used for preparing our eggnog:
Sweet whole milk provided by our cow, Clara Bella
Fresh eggs courtesy of our hen, Henrietta
Brown sugar from the neighbor's sugar cane processing set-up (which also served as a moonshine still)
Aguardiente (fire water strong enough to induce a Rip Van Winkle-esque nap if you weren't careful), also produced at the neighbor's still
Cinnamon bark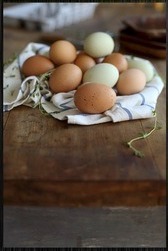 Note: Milk and eggs had to be sourced the day of preparation, as we had no refrigeration. Electricity didn't come to our region until much later. This meant that to prepare egg nog, Clara Bella had to be milked and Henrietta had to lay her eggs on the day of preparation. On the farm, each morning began with milking and the hunting and gathering of eggs, fruits, herbs, and vegetables. Oftentimes, this work took most of the day in order to prepare our made-from-scratch meals.
I had never made egg nog, but there was a chill in the air and a hankering for a hot drink before bed. Raul asked for egg nog. I said I'd try to whip something up. With no access to recipes, and egg nog not being an Ecuadorian tradition, I had to think long and hard about what ingredients I thought I'd need and then how to prepare them.
Since having the appropriate kitchen appliances and tools plays an important role in food preparation, I surveyed our kitchen and was content to find the following:
Sufficient propane gas for our two burner Coleman camp stove, my most prized (and only) modern kitchen appliance
Sauce pan
Fork for stirring/whisking the eggs
Two pitchers
Grater for cinnamon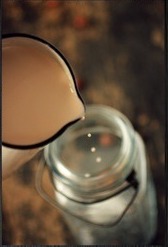 Technique is key in preparing egg nog. Prior experience with eggs had taught me the importance of not allowing eggs to cook into a scramble while being added to hot ingredients. I recalled a time I had added raw egg to my shampoo in order to condition my hair, as in egg shampoo. When I rinsed the eggs out, the water was too hot and the eggs cooked in my hair, requiring a second shampooing without eggs but with plenty of rinsing. Based on this experience, for the egg nog preparation, I thought it best to whisk the eggs a bit before adding them to the lukewarm milk. Lessons learned from the egg shampoo fiasco paid off. My egg nog was creamy, not lumpy.
But first things first. The milk from the morning's milking of Clara Bella had sat long enough for the thick, rich cream to rise to the top. Clara Bella was known for the natural sweetness of her milk, unlike our other cow, Gladys, who produced such sour-tasting milk we used it only to make cheese or sour cream. One of my favorite treats was Clara Bella's cream. Sometimes I simply licked it from a spoon. Other times I whipped it with a whisk and enjoyed whipped cream on my papaya. Did I mention that Gladys was named after my brother-in-law Jaime's girlfriend Gladys, a woman known for her sour temperament? Well, back to Clara Bella's milk. I have never had milk like hers. It was so naturally sweet, that I didn't bother to add sugar or vanilla to it for my whipped cream. There was no need. For the egg nog, I saved some of the prized cream to drizzle into the hot mixture just before serving.
The sun had set, Raul had lit the kerosene lantern, and I went to work in the kitchen whisking and warming, pouring and seasoning. A secret to creamy egg nog is to pour the heated milk, the whisked eggs, the sugar, and rum back and forth between two pitchers to allow the flavors to blend and the mixture to become frothy. At least this was my secret at the time, working in the farm kitchen with a camp stove and kitchen tools. The creamy aromas of milk, eggs, and sugar filled the room, and it came time to pour the mixture into our mugs. Raul did the honor of pouring a shot of "aguardiente" into each mug, and I topped off the spirits with the hot milky liquid. For final touches I drizzled the foamy cream on the top of the drink, following with a sprinkle of freshly grated cinnamon.
I rarely drank aguardiente, as it lived up to its name, "burning water". As soon as the bootleg spirits hit the back of the throat, the burning commenced, and recovery took time. Like rum, which is also made from sugar cane, "aguardiente" provides a good kick. But unlike rum, "aguardiente" is moonshine, defined by its course flavor and rugged after effects. That is why Raul and I affectionately named our new treat Egg Grog. It seemed to fit our mountain lifestyle, raw and rugged, sometimes harsh but always leaving its indelible mark.
Winter is here now. Cheers to all of us as the holidays are upon us and we draw closer to our friends and loved ones. I won't be making egg grog this year, but the happy memories of a chilly night in the Andes with a warm milky drink and a soulful companion by my side remind me that the simple pleasures are the sweetest and most enduring of all.