Q. How do I know what size to order?
A. Please see our Size Guide below: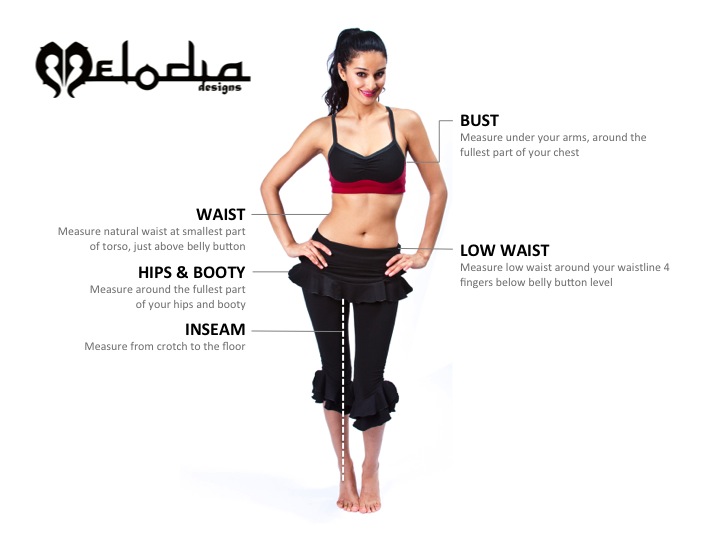 Q. What if I order the wrong size?
A. Please click the link for our Returns Policies:
Q. What are the care instructions for Melodia Designs apparel?
A. Most of my collection can be machine-washed cold and hung to dry. Specialty fabrics (such as the Faux Assuit) should be hand-washed and hung to dry or dry-cleaned only. Following these care instructions will prevent shrinkage and provide the longest life to your apparel.
Q. What types of payments do you accept?
A. We proudly accept VISA, MASTERCARD, AMERICAN EXPRESS, DISCOVER and PAYPAL.
Q. How long does it take for an item to get through processing?
A. As we truly aim to add happiness and ease to your shopping experience, we typically ship within 24 hours of receiving your cleared payment. However, as we are a small business, on occasion that can take up to 2-3 business days, depending on our workload.
Q. What happens if the order is placed over the weekend?
A. We process orders on Mondays to keep handling times short for orders placed over the weekend. We do not ship on weekends.
Q: Will you ever make that old style I love, love, love again?
A: Forever's a mighty long time ladies. And while we occasionally phase out old favorites to introduce new favorites, we do release Limited Edition Exclusive Runs of select Classics for our VIP customers. To become a VIP, sign up with your email address here.
Q: I'm trying to redeem an Ambassador Coupon Code but it's not working?
A: Each ambassador coupon code is only able to be redeemed once per calendar year. They are reset at the beginning of each year so that you may use them an additional time.