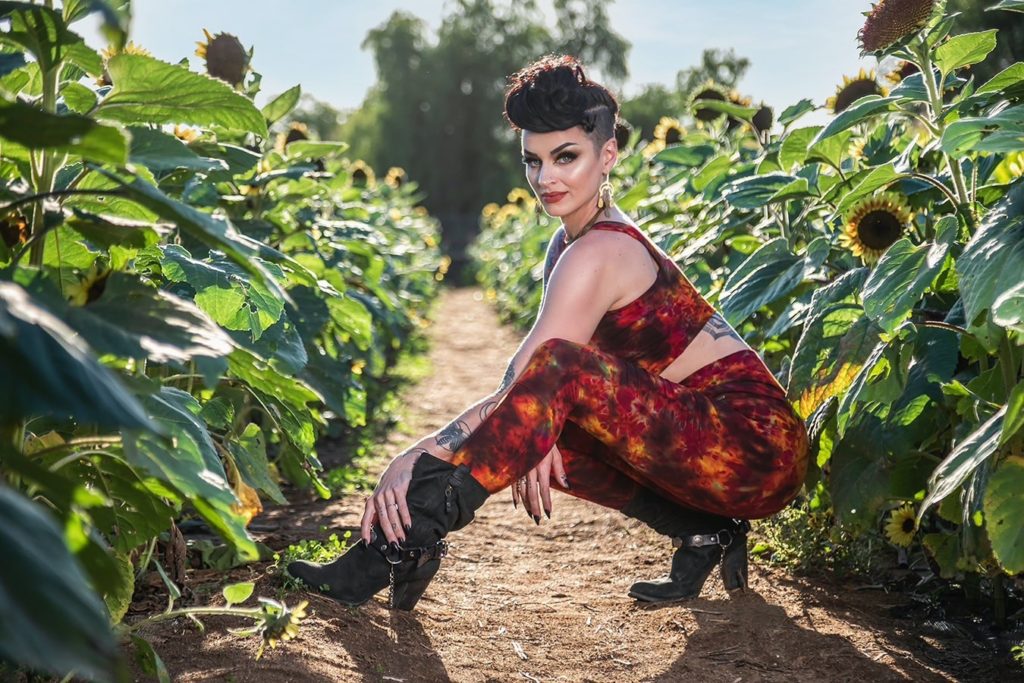 With Autumn in the air I'm excited to celebrate the turning of the seasons with cozy layers and fall colors. My newest capsule collection features a very limited edition of hand-dyed garments lovingly made by an expert dyer in my home town of San Diego. 'Dominic the Dyer' has an exquisite eye for color and has offered to lovingly elevate two of my favorite silhouettes, the Moto Extreme and the Neisha bra, with his color magic.
Lava-hot colors with gemstone accents have been captured in this unique earthen colorway. Each garment is crafted from my favorite blend of bamboo and organic cotton fabric. This soft-n-snappy material lends itself to all-day wear and will take your from the studio to the street in style.

The desert has always been a place of inspiration for me. The soft colors and rustic textures of the earth captivate me. It's fun to recognize when my outer world inspires my creations.
This new limited edition Grunge Collection emulates cloud-kissed sky's and the unique red earth that is native to the desert. It's a pleasure to honor the earth with this eco-friendly collection named after gems such as Lapis and Bloodstone. This color palate offers textural neutrals designed to complement the classics in your wardrobe.
Enjoy this LE capsule all year round because the thermal regulating materials they are made from adapt to the climate. That's right, did you know that bamboo is naturally thermal regulating, meaning it helps keep you warm in the cold and cool in the heat? No matter if you are headed to a tropical resort or ski resort, or just enjoying a staycation, you'll be sure to be super stylish and comfortable in this collection.

As the leaves begin to change and the weather cools, I'm excited to start wearing some of my cozier clothes. This week I tested out the samples from this new fall drop and I must say, I was in total comfy bliss. Fluffy fleece leggings and a body-con long sleeve top made me feel like a slinky feline. Let's be real, whether I'm working out or lounging, I love to be 100% comfy all of the time.
MUSE(s): Jade Tracy Lesley Phoenix Sarah
IMAGERY: Blair Robb
MAKEUP: Amanda Olah