THANKSGIVING IN ECUADOR
La Casa De Roy
I want to introduce you to our house in Salinas, Ecuador, as it was the final resting place for a very ill-fated turkey on my daughter Melodia's first Thanksgiving. The house has many stories to tell, and this one seems timely as we approach a truly American holiday, our day of giving thanks.
Like many houses in Ecuador, our beach cottage was raised above the ground and supported by cement pilings in case a rogue wave threatened to wash up from the ocean or Equatorial rains happened to flood the area. Oddly, our house had been built in Nebraska during World War II and shipped to Salinas, Ecuador. I called it our North- South beach house, constructed in North America and assembled in South America. It was if the builders in the United States were playing a game of Lincoln Logs across hemispheres.
Our house was charmingly out of place yet beautiful in design and placement surrounded by a white picket fence. It was known as "La Casa de Roy" after Raul (aka Roy) Mendoza, Melodia's Ecuadorian father and my husband. It is where we lived as a family of three. The house was of such strong character, I often felt as if it were the fourth family member, living our lives alongside us and playing its own mischievous, often soulful role in the dynamics of our family.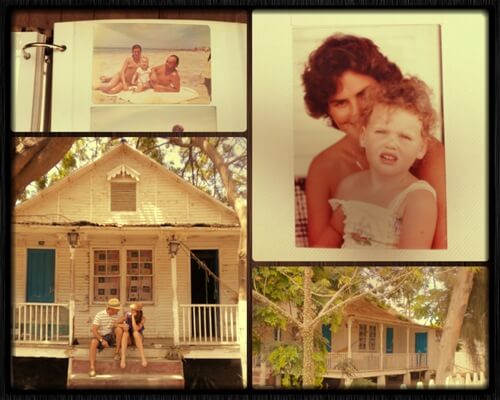 A House of Many Faces
Other houses in the area were of cement block, not of wood, as there was a scarcity of wood in the area. We were never sure why the Nebraska house was there but guessed that it had something to do with the United Statesʻ Navy's involvement in helping Ecuador protect its oil resources during the war years. We conjectured that it was a Naval Officer's quarters. On the house's exterior was a brass plaque with the name, construction date and address of the company that had constructed the house…proof of its origins and always a bit of a mystery to us.
We paid a whopping $600.00 in rent annually for our rickety little bit of heaven. Never mind that it had no running water or telephone, it was for our little family of three a safe haven (usually) and when my musician husband Raul had his way (frequently), it transformed itself into a bar/ nightclub/cafe/restaurant.
An important aspect of the house was the wrap around porch, perfect for our outdoor lifestyle. We kept a hammock hanging year-round for daily siestas and the occasional overnight guest who enjoyed sleeping off the after effects of the previous night's party. Melodia and I watched the world go by from our porch. She learned to walk on the porch. The wooden porch railings became her baby walker. She grabbed onto them to pull herself up and then to hang onto as she carefully took steps down the length of the porch. She also learned her first words from the porch.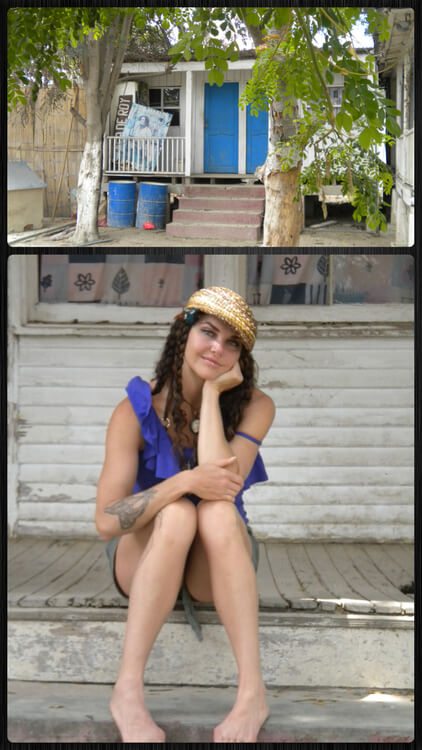 "El Igua!"
Once a week the fresh water tanker pulled up to our house to deliver our water. The delivery men had a system that consisted of parking the tanker in front of our house, filling buckets of water from the tanker spigot and then running a human water brigade to the to fill the water barrels situated in our yard. It was quite the show. As "tanqueros", as they were known, came rounding the bend toward our house, they called out their arrival, "El Agua!"
It made sense that my daughter's first words included "agua", but to my dismay, for reasons that I never understood, the delivery men pronounced the word as "igua". Melodia, pleased with her growing vocabulary, rehearsed this weird word day in and day out. She proudly marched around our house, happy to point out " el igua!" in the water barrels, " el igua!" in the baby bath, in the pet rabbit's dish, in the water glass, and on and on. For the eight years that I lived in Ecuador, water was a daily concern. We either carried it ourselves from the closest river, or we had it delivered by tanker truck, depending on which part of the country we were living in at the time.
With that lovely water, we prepared daily meals, some of the most memorable of my lifetime. In Salinas, we prepared simple seafood delicacies or even grand feasts for momentous holidays. With Raul's gastronomic touch, Melodia's cheerful companionship and my endless determination and hope that I could learn to cook, we ate healthy (and often strange) meals in Ecuador. This brings to mind the Thanksgiving dinner that delighted me, frightened me, turned my stomach, and filled me with gratitude, if not turkey and all of the trimmings.