For When You're on the Giddy-up!
With a busy lifestyle that has me on the go, I find it a necessary self care discipline to dedicate some time to preparing healthy meals that travel well with me throughout the week. Before a road trip or even just a busy day, I pack up my homemade provisions so I have the vitals on hand to keep me going. In this recipe, I've taken inspiration from the early road warriors, the Great American Cowboy. Get out your iron skillet, imagine a campfire, and get ready to cook up some easy-made cornbread on your home range.
Cowgirl Corn Bread Recipe
2 cups (264 g) coarsely ground yellow cornmeal
1 teaspoon kosher salt
1 teaspoon baking soda
2 teaspoons baking powder
1 egg (60 g, out of shell) at room temperature, beaten
4 tablespoons (56 g) unsalted butter, melted and cooled
1 ½ cups (340 g) plain yogurt, at room temperature
4 tablespoons (84 g) honey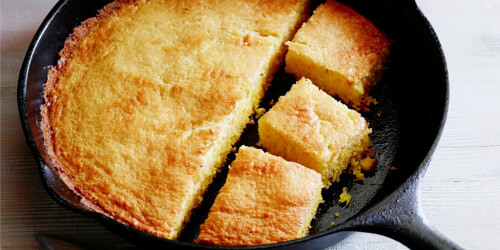 DIRECTIONS
Preheat your oven to 400°F. Grease a 12-inch cast iron skillet or an 8-inch square or round pan, and set it aside.
In a large bowl, place the cornmeal, salt, baking soda and baking powder, and whisk to combine well. In separate bowl, mix the egg, butter, yogurt and honey, and whisk to combine well.
Create a well in the dry ingredients, and pour in the wet ingredients. Mix until combined. Pour the mixture into the prepared pan. Bake for 20-30 minutes (closer to 20 minutes if using a cast iron skillet), or until lightly golden brown on top, golden brown around the edges, and a toothpick inserted in the center comes out clean. Slice and serve immediately.
Adapted from Old Fashioned Cornbread in Gluten-Free on a Shoestring: 125 Easy Recipes for Eating Well on the Cheap (Da Capo 2011).