During my festival season, I find it's extra important to prepare healthy meals for myself that travel well and are quick to serve.  That way I stay nourished and grounded during the non-stop activity.
After having a hankering for my grandmother's classic potato salad, I decided to recreate the recipe with the healthiest ingredients I could find.
You'll need the following ingredients: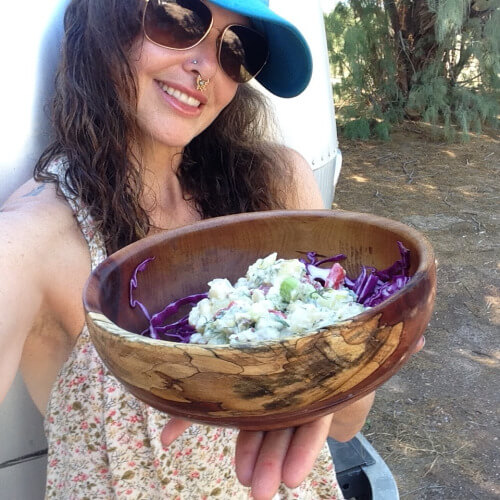 10 small yellow potatoes
2 cups plain whole milk Greek yogurt
1 packet French onion mix or onion  powder
Fresh dill
Bell pepper
Red onion
Celery
Here's how to make it:
Boil the potatoes for 30 minutes or until soft when pierced with a fork.
While the potatoes are cooking,
Dice ½ red onion ~
Soak and strain in water to get the "bite" out.
Chop:
1 cup red bell pepper
2 cups celery
½ cup fresh dill
Mix 2 cups of yogurt with one packet of French onion powder mix or onion powder.
After potatoes have cooled, dice and mix with the chopped ingredients. Finish by mixing in French onion yogurt dip dressing.
Serve cold and enjoy!