Ariel's Magical Chai
I have always been enchanted by the rich aroma and exotic flavors in homemade chai. I find that a truly good recipe is hard to find as they are often coveted and kept secret. Well, with permission and a blessing, I have a treasured recipe to share with you that has been passed on to me by my dear friend.
Ariel struck me to be an old soul from the first moment I met her. Her rich and elegant sensibilities are apparent in her styling and in her creations. Not only does she make a sensuous tea, Ariel makes opulent jewelry as Ariel Jewelry Designs.
★ Sensuous Homemade Chai Recipe ★
Ingredients:
Black Tea Bags or Loose Leaf Indian Black Tea (any Black tea will do)
Fresh Ginger
Green Cardamom Pods
Cinnamon
Clove
Nutmeg
Cayenne
Shredded Coconut
Raw Cacao
Maca Powder
White Pepper
Raw Cane Sugar or Raw Honey (or any sweetening product you wish)
Milk or any milk-type product you wish
In a bowl (preferably wooden), mix the following together:
2 ½ tsp cinnamon
1 ½ tsp clove
½ tsp nutmeg
1 tsp. coconut
1 tsp. raw cacao
1 tsp. maca powder
1/8 (or less depending on preference) tsp cayenne
1/8 (or less depending on preference) tsp white pepper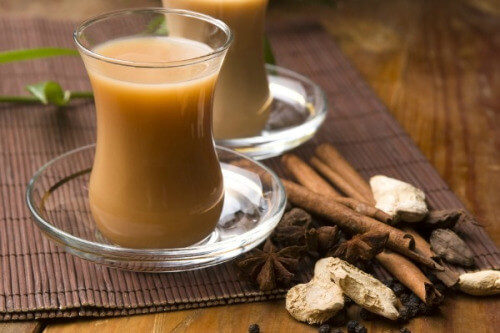 Bring 6 cups of water to just under a boil, lower flame to very low. Add 6 tea bags of Black tea or 4-6 Tablespoons of loose Black Tea contained within a tea infuser.
Add slices (or chunks) of fresh ginger (add to taste and preference) along with about 10 or so green cardamom pods.
Put a lid on the pot and let simmer on low for about 10 minutes to get the flavors infused in the tea.
After about 10 minutes take the tea bags (or tea infuser out). If you use tea bags try to squeeze them so you don't loose that yummy liquid they've soaked up.
Now return to your chai mix you just made and send loving, healing energy into it as you add about 2-3 Tablespoons into your liquid tea (you can add as much of this as you wish as it will be strained anyway). Stir well and then place lid back on and let sit for about 15-20 min. with a very low flame.
During this time your home will fill with the amazing scents of this chai blend. This is a good time to do a 15-20 minute meditation, taking in the divine, healing fragrance.
Once about 15-20 minutes passes (or even longer for a more potent blend), you are ready to strain. DO NOT STIR prior to straining. Most of the spices have settled to the bottom which is what we want as it makes straining a much easier process. I recommend using a large strainer.
Once your tea has been strained you are ready to add whatever form of sweet you wish. I like to use raw cane sugar or raw honey. I generally put about 4 Tablespoons into the concentrate.
Now you have your chai tea concentrate and you are ready to serve.
I usually do ½ parts chai, ½ parts milk (this will depend on your taste and preference)
I suggest keeping your concentrate separate and adding milk per serving. This way your concentrate will last much longer.
~Melodia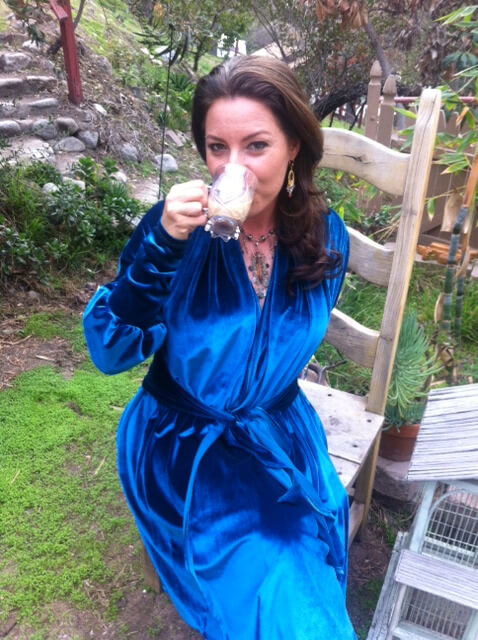 PS- Ariel's wearing a Belladonna Cloaked Robe.