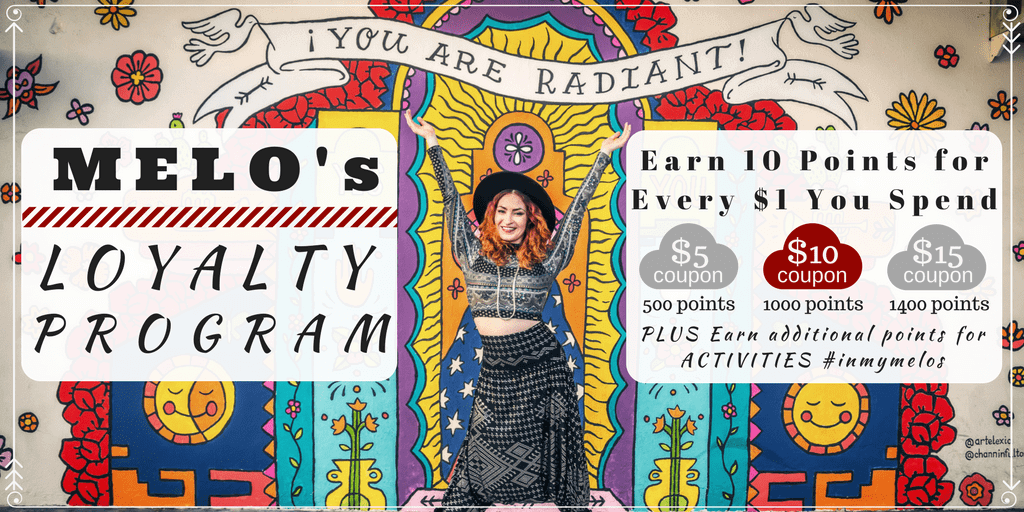 Welcome to Melo's Loyalty Program!
Earn 10 Points for Every $1 You Spend on MelodiaDesigns.com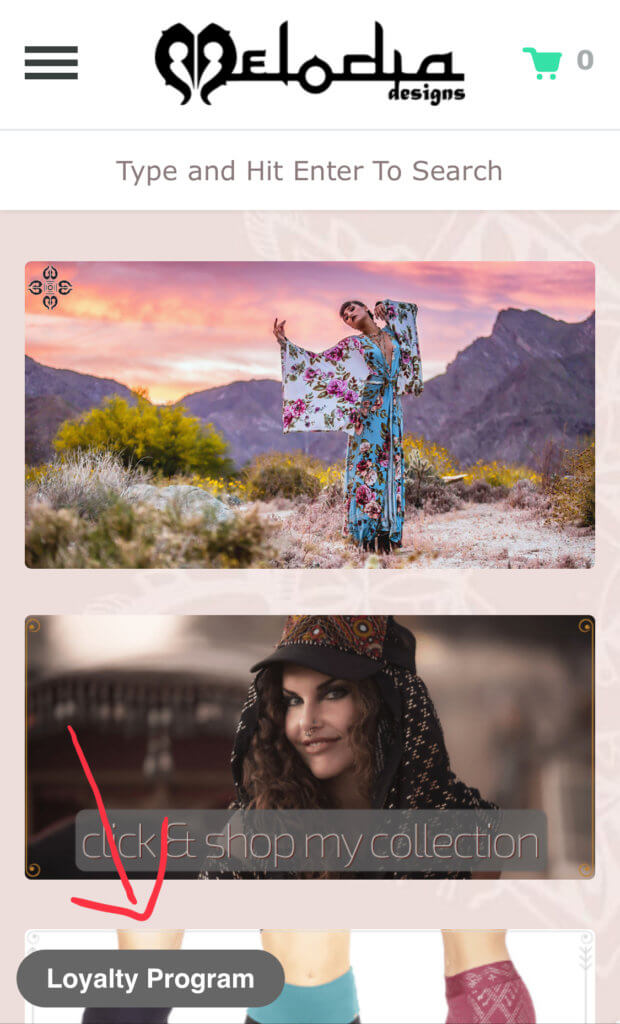 Spend or Save your Points to Earn Even Bigger Rewards
SIGN UP by clicking the LOYALTY PROGRAM* button at the bottom of the page when you next shop, create your account, & automatically earn 760 points!
Melo's Loyalty Program is your quickest way to fabulous deals on your favorite pieces from my collection. It's free to join, and every dollar you spend gets you 10 points closer to your next adventure #inmymelos!
Plus, there are additional ways to keep earning even more points!
HOW YOU CAN EARN POINTS:
Create a MelodiaDesigns.com account & earn 760 points
For every $1 you spend get 10 points
Receive 

950 bonus points

 on your birthday
Refer a new customer & receive 2000 points when the referred customer makes their first purchase.
Check the Activities Tab on your Rewards Program for the latest offers and rewards!
FAQ
How do I redeem my points?
From the drop-down menu in the top left of our home page, select 'my account'.
Select 'Loyalty Program'.
Select 'Spend Points'.
Select the appropriate coupon to redeem. (only 1 per order)
A coupon will be generated. Copy the coupon code (begins with LOYAL…)
When you are at checkout, paste the code into 'Promo Code'.
My coupon says 'redeemed', but I have not used it?
When a coupon says 'redeemed', it is simply referring to points having been redeemed for a coupon. If you have yet to use the coupon on an order, it will still be active (unless an expiration date is specified). Simply copy the code and paste it into 'Promo Code' at checkout.
May I use my loyalty rewards promo code at the same time as a promotional promo code?
Yes. Loyalty Rewards may be combined with other promo codes, unless specified otherwise. 🙂
How do I keep my points from expiring?
*Points are accumulated as long as you continue to make at least one purchase per calendar year. If you have not made a qualifying purchase within 12 months, your Points will expire.